ART HOUSE – Moonage Daydream
21.9.2022 kl. 18.00
–
20.15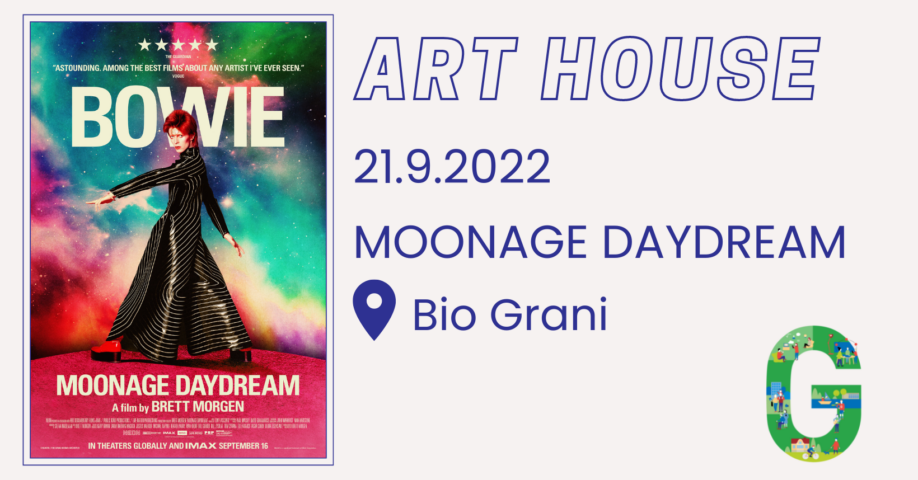 ART HOUSE – Moonage Daydream
The movie series continues again this Autumn. Bio Grani and Kauniaisten cultural services organizes the Art House- movie series once a month. This September is an exception since we are showing two Art House movies!
The second movie shown in September is Moonage Daydream 21.9.2022.
This Autumns Art House- movie series starts with the famous movie Veden Vartija.
Premiere: 16.09.2022
Length: 135 min
K7
With MOONAGE DAYDREAM, Brett Morgen (The Kid Stays in the Picture, Kurt Cobain: Montage of Heck, Jane) presents a genre defying immersion into the art and sounds of David Bowie.
Considered one of the greatest artists of our time, David Bowie has been moving culture for over 50 years. MOONAGE DAYDREAM is the first film to be supported by the David Bowie Estate, which granted Morgen unprecedented access to their collection.
Told through sublime, kaleidoscopic imagery, personal archived footage, unseen performances, and anchored by David Bowie's own music and words, MOONAGE DAYDREAM invites audiences to immerse themselves in the unique world that is "Bowie".
In 2017, the estate presented Morgen with over 5 million assets. Included in the collection were rare and never-before seen drawings, recordings, films, and journals. Morgen spent four years assembling the film and another 18 months designing the soundscape, animations, and color palette.
For the film, the sound team – featuring Bowie's long-time collaborator, friend and music producer Tony Visconti and Academy Award®-winning sound mixer Paul Massey (Bohemian Rhapsody) – remixed and translated Bowie's original stems for a theatrical environment that will be presented in 12.0, 5.0, Atmos, and 7.1/5.1.
Throughout his career, across generations, Bowie taught us that our differences were our strengths. With MOONAGE DAYDREAM, Bowie provides us with a roadmap of how to survive the 21st century, inviting audiences to celebrate his legacy and enduring influence like never before.
Tickets are bought from Bio Grani
Bio Grani opens the cinema half an hour before the first show of the day.
You can reserve a ticket before hand by email info@biograni.fi or Bio Granis website . You can call the cinema at their opening hours, 09 505 3062.
Any reserved ticket must be bought at least 15 minutes before the show.
What: Art House – movieseries – Moonage Daydream
When: 21.5.2022 18.00pm
Where: Bio Grani,
Teinikuja 4 02700 Kauniainen
How much: 10€
For whom: Everyone over 7-years
Evenemangets webbplats