Wild Women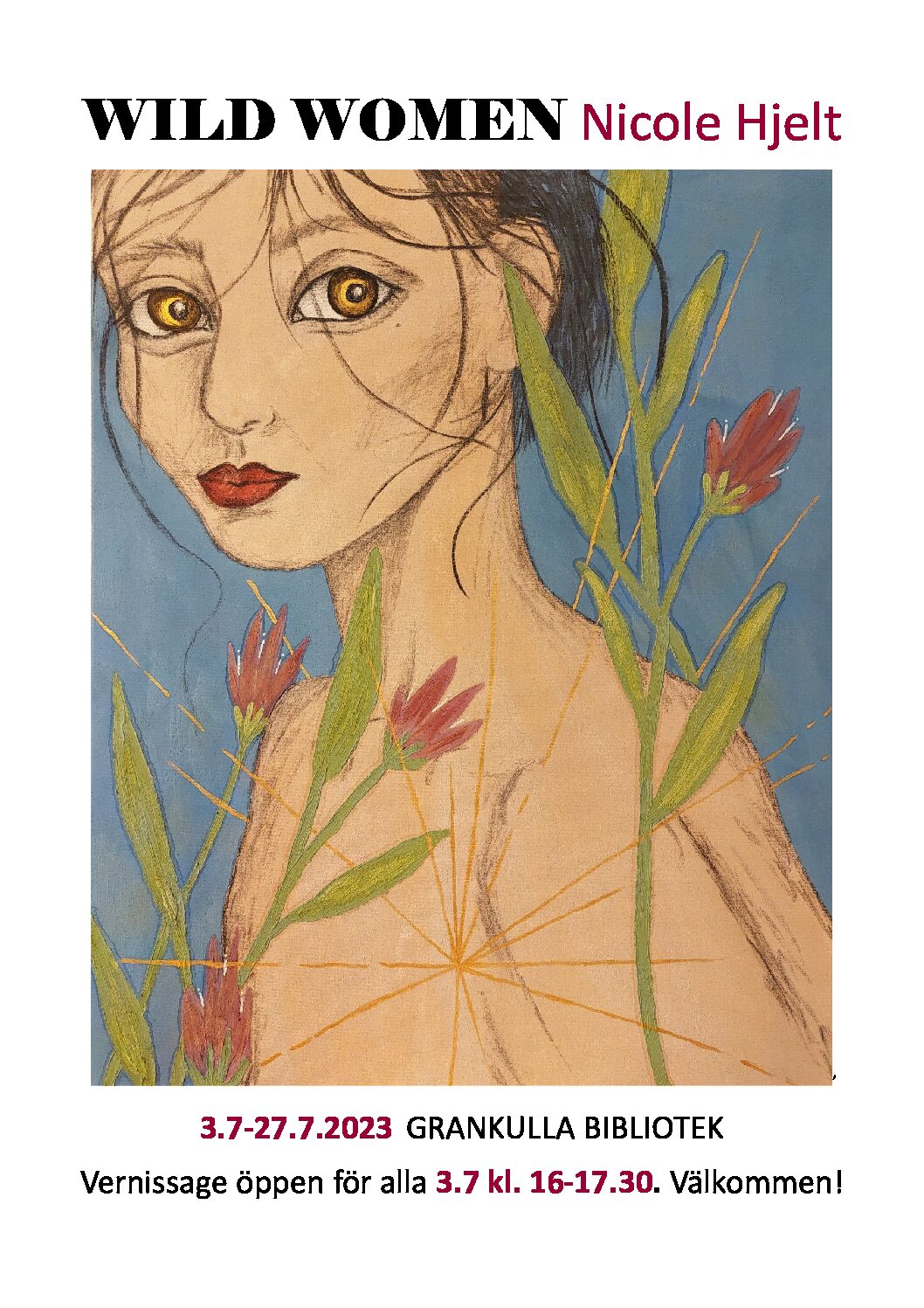 Wild Women
3.-27.7.2023 Nicole Hjelt
Nicole Hjelt, a visual artist, makeup artist, and prop designer, was born in 1993 in Kauniainen – Grankulla. Since autumn, she lives and works in Snappertuna. In spring 2023, she graduated with a bachelor's degree in visual arts from Novia University of Applied Sciences.
Complicated relationships. Emotions getting stuck in the throat. Tears that never turn into saltwater. Abstract thoughts that cannot be put into words. Human mistakes that seem unforgivable in the moment. Letters that never form sentences. And sentences that never get air.
Hjelt loves working with colors and their absence, contrast, sharp lines, and features of the human face. She is fascinated and draws inspiration from different cultures as well as human expressions and emotions. Through her art, Nicole strives to depict deeply rooted emotions and bring them to life.
In Hjelt's artistic work, she explores a wide range of mediums including painting, drawing, words, performance, and video. Currently, she is experimenting and exploring the concept of creating self-portraits in different ways. The more Nicole contemplates the core of the self-portrait concept, the more she realizes that there are no boundaries in creation, which makes her feel free.
The Cultural Services has made an exciting decision for the second time to offer its bright Gallery space for the entire month of July to a young artist.
By providing this opportunity, the city's cultural services aim to give a platform and space to a promising young artist, allowing them to showcase their artistic vision and creativity to a wider audience. This gesture not only recognizes the potential and value of young artists but also encourages the growth and development of the local artistic community.
The Gallery space, known for its bright aesthetics and prominent location in the library, serves as the perfect backdrop for the artist to display their artwork and engage with visitors. This month-long exhibition provides a unique chance for the artist to gain exposure, connect with art enthusiasts, and establish themselves within the cultural landscape of the city.
Moreover, this initiative highlights the city's dedication to fostering a vibrant and inclusive arts scene in Kauniainen – Grankulla. By specifically targeting young artists, the cultural services aim to bridge the gap between established and emerging artists, fostering a sense of collaboration and intergenerational exchange.
Ultimately, by providing space for a young artist in the cultural field, the city's cultural services showcase their dedication to promoting creativity, supporting emerging talent, and ensuring the continued growth and vitality of the local arts community.
The opening party for the exhibition is on Monday 3.7 at 4pm to 5.30pm, it is open for everyone, welcome!
Facebook event – Opening party
What: Wild Women – exhibition
When: 3.-27.7.2023
Mon – Fri at 11am to 6pm.
Sat – Sun closed
Where: The Gallery in Kauniainen, Thurmaninaukio 6
How much: Free entrance
Organizers: The cultural services of Kauniainen and Nicole Hjelt
The Gallery is free to visit for everyone, open for every age and is accessible for wheelchair users.
The Cultural services of Kauniainen – Grankulla are responsible of the Gallery.