All the Scents of the Earth
12.2.2023 at 18.00
–
19.00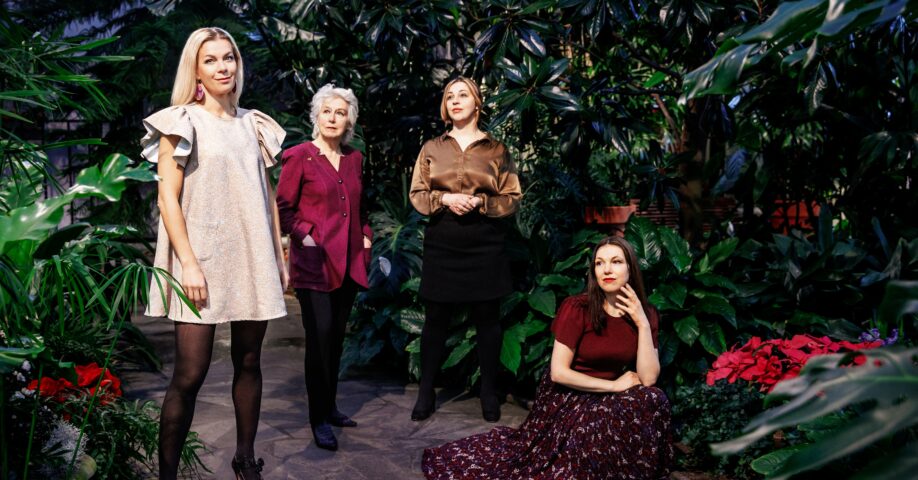 All the Scents of the Earth
Trio Flamme performs Carita Holmström's songs about our life on earth. Songs of love and longing as well as hymns to nature alternate with songs of sorrow, flight and that there is always someone who cleans up after every war. In the program are gems from Holmström's archive of songs from the 70's up to new songs written for Trio Flamme. On stage: Trio Flamme (vocals and piano), Esko Grundström (contrabass and accordion) and Carita Holmström herself (piano, guitar and vocals).
Trio Flamme (Emilie Adolfsson, Daniela Fogelholm and Minna Nyberg) specializes in Finnish-Swedish theatre music. The trio has toured Finland and Sweden and has produced several concert programs featuring composers such as Erna Tauro and Bengt Ahlfors. To name a few: Erna Tauro – Känslornas tonsättare, Tauro & Ahlfors – Visor för full hals och FLAMME + BEBBE = SANT!. Trio Flamme received the Erna Tauro Award in 2020 for their many years of performing Finnish-Swedish theatre songs. The members of the trio all work as professional musicians and stage artists and are appreciated for their versatility.
Carita Holmström is a pianist, singer, composer, guitarist and arranger of music. She has established herself as cross-over artist and composer with a rich repertoire. Her first album We are what we do (1973) was folk-, latin- and jazz-inspired and immediately received the YLE award Record of the Year. Since then Holmström has composed chamber-, theatre- and choir music as well as song cycles, organ- and church music including three musicals, a chamber opera and two ballets. She has recorded 10 albums with her own music, the latest being SJUNG SORGEN (2020) and two records of chamber music HIDDEN STORIES (2022). She worked as lector of piano music at the Sibelius Academy in Helsinki 1983-2018.
Esko Grundström is a multi-instrumentalist, composer, studio musician and arranger of music. He is a passionate and unprejudiced artist that works for most part with newly written music. He often works as a musician in the theatre houses of Helsinki, especially the National Theatre. Grundström plays in ensembles like Ilkka Arola Sound Tagine and Bergå Folk Project. He has arranged music for the Helsinki Philharmonic Orchestra, Lapland Chamber Orchestra and the orchestra specialized in children's music Ammuu!. Grundström has received his Bachelor's degree in music from the Sibelius Academy. He plays the contrabass, bass guitar, accordion, keyboard instruments and kantele.
Photo: Cata Portin
What: All the Scents of the Earth – concert, Trio Flamme plays together with Carita Holmström and Esko Grundström.
When: Sunday 12.2 at 18.00 – 19.00pm, doors at 17.30pm.
Where: Villa Vallmogård, Valmukuja 3
02700 Kauniainen.
How much: 20€, cash and card from the city hall in Kauniainen from the 23.1.23 on. Free with Kaikukortti. If there is tickets left on the event day we will sell at the door with cash payment.
Organizer: The Cultural services of Kauniainen – Grankulla.
There is not a lot of parking outside the Villa. Please leave your car in the parking lot in the beginning of Valmukuja.
Event cost
20€ / Free with Kaikukortti
Events webpage