Pre Christmas party for youngsters
25.11.2023 at 16.00
–
19.00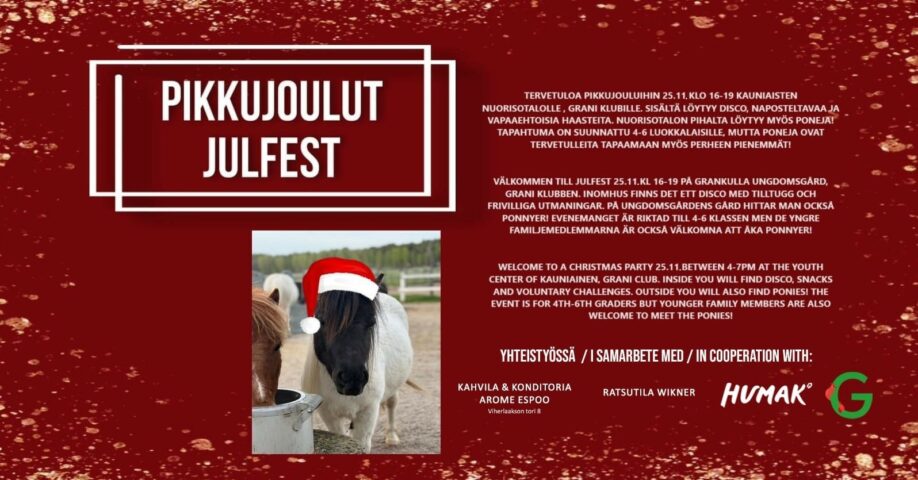 Pre Christmas party for youngsters
Sat 25.11. At 16:00-19:00
Granin klubi, Läntinen koulupolku 1-3, 02700 Kauniainen
Humak's students are organizing in cooperation with the city of Kauniainen a Christmas party for the 4th-6th graders on the 25th of November at 4-7pm at the youth center Grani club.
Indoors, there will be a christmas disco, snacks and voluntary challenges!
Elf ponies can also be found in the yard of the youth center, so everyone who wants to can ride on a leash for 1€/round (cash). The smaller family members are also welcome to ride!
So take warm clothes, a little pocket money and Christmas spirit with you and come spend time at a Christmas party with us!
For the rest of the year, Kauniainen will be buzzing with events as the first-year cultural management students from HUMAK collaborate with the Kauniainen municipality to organize a series of events.
There are six different events planned for people of all ages, with the first one taking place in early November. The lineup includes puppy yoga, a game night, and a pre-Christmas disco for the youth, a concert for seniors, as well as candlelight swimming and a painting + wine night.
The event series aims to engage the residents of Kauniainen before the winter slump sets in.