Elollista ja elotonta – Naturens livscykel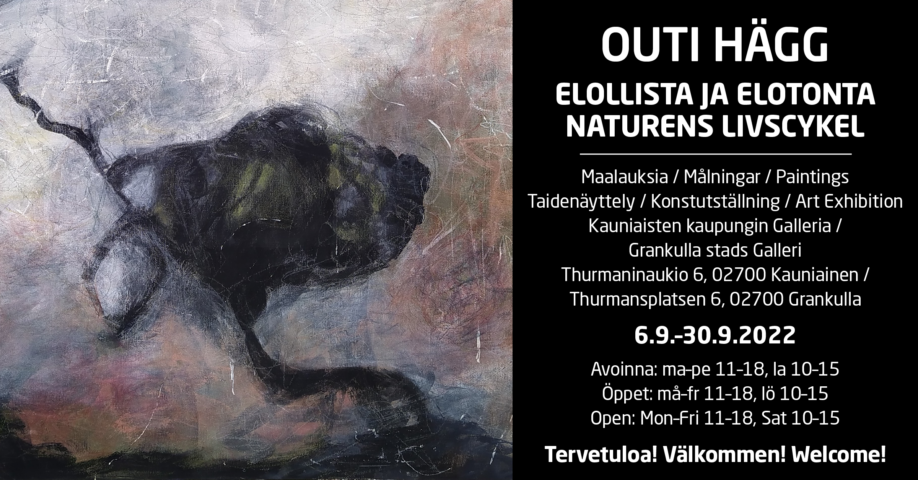 ELOLLISTA JA ELOTONTA – Naturens Livscykel
Outi Hägg
Outi Hägg, Painter, Dr. (Educ.), BA(Arts and Culture) Kirkkonummi, Finland
Outi Hägg is a Finnish painter. After her career in business and in academy she started to pursue her art making full-time. For me art and life are one and the same. Art making gives me joy, which evolves from my heart. I start my painting process boldly and I ́m not afraid of a blank canvas. I activate the canvas by making marks, in that way I ́m able to catch up my own rhythm. At the beginning I paint intuitively. I let myself enter into the liminal phase, to the edge of The Unknown where I have the feeling that I ́m lost, confused and insecure.I focus on the process. The key out of the liminality is to continue painting, not thinking. This is the turning point and the way to an inner assurance. Later I stop and I hang the paintings on the wall and start to look at them, sometimes hours, sometimes weeks or months.Literally, I take distance. Then I start to analyze what to do next, what moves I shall take. I start to create order out of chaos. Therefore, my paintings are constantly in an ongoing change. Each painting process is an exploratory study. This means that scarcely anything is known about the emerging piece and that ́s why it is pointless to make any detailed plans beforehand. The interaction between intuition, emotions and mind is an integral part of my painting process.
If my art is able to evoke your mind, it has fulfilled the purpose.
Outi Hägg Website
Outi Hägg Art Instagram
More information: Outi Hägg, tel. 045-2197424, haggouti@gmail.com
What: Elollista ja elotonta art exhitbition
Where: Kauniaisten Galleria, Thurmaninaukio 6
When: 6.9 – 30.9.2022
Mon, Thu 11-19
Tue, Wed, Fri 11-18
Sat 10-15.
The Gallery is free to visit for everyone, open for every age and is accessible for wheelchair users.The Cultural services of Kauniainen – Grankulla are responsible of the Gallery.
Events webpage