2.11.2023

|

Culture
Open Call for collaborative events at the Uusi Paviljonki – Nya Paviljongen in spring 2024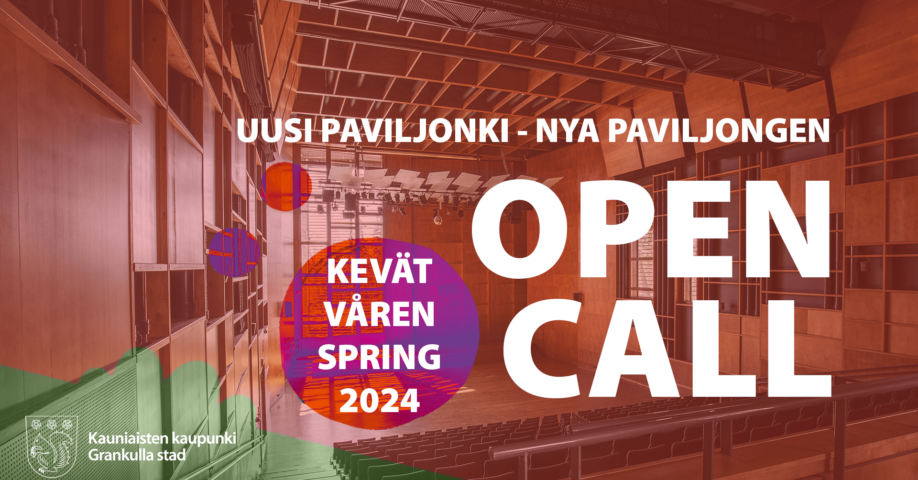 Open Call for collaborative events at the Uusi Paviljonki – Nya Paviljongen in spring 2024. The application period is 2.11–12.12.2023. The application form will close 12.12.2023 at 23.55.
Kauniainen city's cultural services have the mission to create conditions for residents to practice and experience culture in Kauniainen. We are now opening up for production applications that will be the foundation for implementing productions together with the art field. We work for the community, participation, and equality, aiming to offer Kauniainen's residents professional and unique art experiences.

We are seeking four innovative finished productions and performances in music and the performing arts.
The Cultural services will participate in the collaboration by covering the cost of the concert hall Uusi Paviljonki – Nya Paviljongen, the rent and staff.
The collaboration will be conducted if a suitable event date is agreed upon by both parties.
Events are scheduled on weekdays after 4:00 PM or on weekends.
The responsibility for marketing lies with the organizer. The cultural services can promote events with materials provided by the organizer.
The organizer is responsible for ticket sales and benefits from the revenue generated.
We base our production selection on the following criteria:
The event aligns with Kauniainen's strategy, read more about it here.
The production's relevance, and how essential it is for our target audiences.
The production is planned according to high professional standards.
The production is suitable for the Uusi Paviljonki – Nya Paviljongen's stage area and technical equipment.
An expert group composed of cultural services' staff (Gisela Montonen, Fredrik Waselius, and Cecilia McMullen) will make the event selection. Applicants will receive a response before 12.1.2024.

Any questions regarding the technical equipment can be sent to fredrik.waselius@kauniainen.fi. Any other questions can be sent to cecilia.mcmullen@kauniainen.fi and gisela.montonen@kauniainen.fi.
Application for Open Call for collaborative events at the Uusi Paviljonki – Nya Paviljongen in spring 2024
Apply here!