Triptyykki huilulle ja orkesterille
7.10.2022 at 19.00
–
21.00
The Helsinki Chamber Orchestra and conductor James Salomon Kahane join forces with the British label Resonus Classics by recording three flute concertos with the internationally acclaimed Finnish flute soloist Sami Junnonen. These works by Joaquín Rodrigo, André Jolivet, and Jacques Ibert represent a massive legacy of the 20th century flute music.
Joaquín Rodrigo (1901–1999) made his breakthrough with the enchanting melodies of the Concierto de Aranjuez for guitar and orchestra, written in 1939. The same year, Rodrigo was appointed as a Professor in Music History at the Madrid Royal Conservatory in his native Spain.
The legendary Irish flautist Sir James Galway commissioned a concerto from Rodrigo, and its premiere took place in London in October 1978. The composer named the work as Concierto Pastoral for Flute and Orchestra referring to its jolly shepherd themes as well as to a Spanish, nostalgic country idyll. The Concierto Pastoral has gained an infamous reputation among the flautists due to its exceptional technical demands. It will now be heard for the first time in Helsinki, and for the first time interpreted by a Finnish flautist.
André Jolivet (1905–1974) is considered as one of the most significant composers of the 20th century flute repertoire. The elegant French style meets ancient myths in his music. In addition to the focus on acoustics and atonality, Jolivet was particularly interested in combining modernism and primitivism. He frequently traveled to Africa, Asia, and Middle East, searching for exotic sources of inspiration for his composing.
Jolivet wrote the virtuosic Concerto for Flute and Strings in 1949, and dedicated it to his friend, flautist Jean-Pierre Rampal. The work consists of four movements, the musical form reminding of a church sonata. Hypnotic melodies and ritualistic dances are typical features of Jolivet's flute music. He described flute poetically as 'the breath of life'.
Jacques Ibert (1890–1962) chose to be a free spirit on the European music scene led by two major trends in the beginning of the 20th century: French impressionism and German expressionism. He combined influences from the past and musical elements including jazz, thus creating his own unique compositional style.
It has been told that the composer sat smiling by the radio receiver in Marseille, and listened to the premiere of the Concerto for Flute and Orchestra given by the famous French flautist Marcel Moyse, a live broadcast from Paris in February 1934. Since then the work has become one of the most established concertos in the flute repertoire.
What: Triptyykki huilulle ja orkesterille concert
When: Friday 7.10.2022 at 19.00 – 21.00
Where: Uusi Paviljonki, Läntinen koulupolku 3,
02700 Kauniainen
How much: 20 € / 15 € / 10€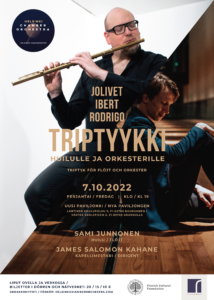 Event cost
20 € / 15 € / 10€
Events webpage