After Christmas comes summer
9.11.2022 at 11.00
–
30.11.2022 at 17.00
After Christmas comes summer – Art exhibition
9.- 30.11. 2022
Painter Svetlana Ruoho
Hey! Welcome to my exhibition. I am a professional artist paintner Svetlana Ruoho.
My motto is "The mission of art is to touch the heart."
As an active artist, I actively organize my own exhibitions and participate in joint exhibitions. This summer
2022 I have a solo exhibition and also together with my colleagues.
I have 18 years of teaching experience. My company Artist Svetlana Ruoho is engaged in art and related
activities.
In 2000 she graduated from the Academy of Arts. Repin in St. Petersburg. I have been living in Finland since
2012. I currently live and work in Espoo. I am a member of the Union of Artists of Finland and Russia of the
Union of Artists of Jyväskylä in Espoo.
Meet the artist:
Saturday 12.11 at 11.00 – 14.00.
Saturday 19.11 at 11.00 – 14.00
Saturday 26.11 at 11.00 – 14.00
I will be there at the exhibition to draw portrait sketches
of the visitors of the library and the exhibition, and I will be happy to talk about my art process and
paintings.
Get in contact:
Email: svetlana.ruoho@taideruoho.f
Kotisivu taideruoho.fi
Facebook Taidemaalari Svetlana Ruoho
Instagram @svetlanaruoho
What: After Christmas comes summer – art exhibition
Where: The Gallery in Kauniainen Grankulla, Thurmaninaukio 6
When: 9.- 30.11. 2022
mon, thurs 11 – 19
tues, wed, fri 11 – 18
sat 10 – 15
The Gallery is free to visit for everyone, open for every age and is accessible for wheelchair users.The Cultural services of Kauniainen – Grankulla are responsible of the Gallery.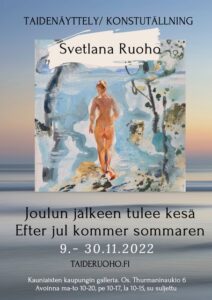 Events webpage