African Alien
1.6.2022 at 10.00
–
30.6.2022 at 18.00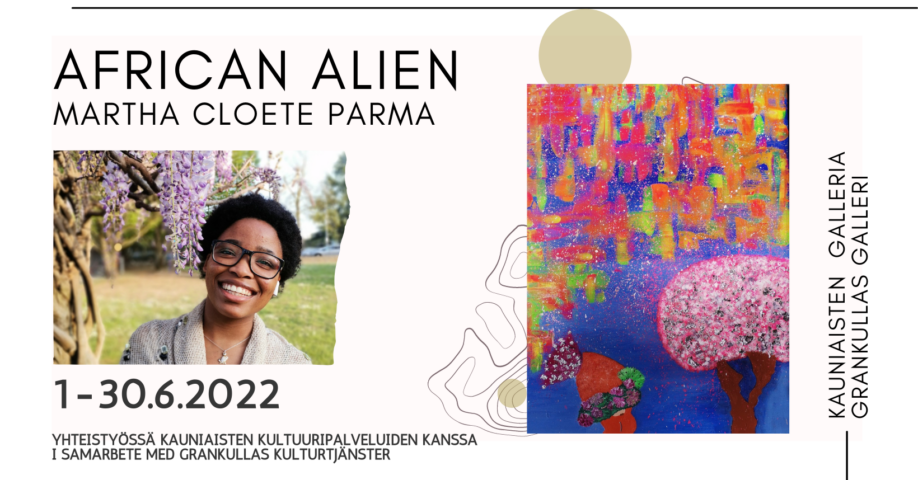 African Alien
Martha was born in 2004 in Windhoek Namibia(Africa). Moved to Finland with her family at the age of five in 2009. Her big love for art started at a young age when she started painting on all sorts of materials.
One of her drawings got published in the Smedsby school's magazine. She continued drawing and painting on paper moved on to textile then canvas and wood boards while adding different materials and textures as well as styles into her art. Her style is a mix of African imagery yet heavily influenced by the Finnish nature and its colors.
Her latest painting 'Material Girl' is the head image of this exhibition and it represents a young child looking figure dancing by a magic tree under a sky full of paper lanterns.
She is currently attending Steiner gymnasium and planning to further her studies into visual arts and photography as well as videography.
Martha's art is not yet available for sales except for NFT's that you can get from Teia Art – Mathra
If you like to commission any specific art piece, you can get in contact with her through her mail: marthacloeteparma@gmail.com
The exhibition is a collaboration with the Cultural Service's of Kauniainen – Grankulla.
The Gallery is free to visit, accessible and open for every age.
The exhibition is open 1-13.6.2022
Mon – Thur 10-20
Fri 10-17
Sat 10-15
Sun closed
The exhibition is open 13-30.6.2022
Mon – Fri 11-18
Sat closed
Sun closed