Feelings by the sea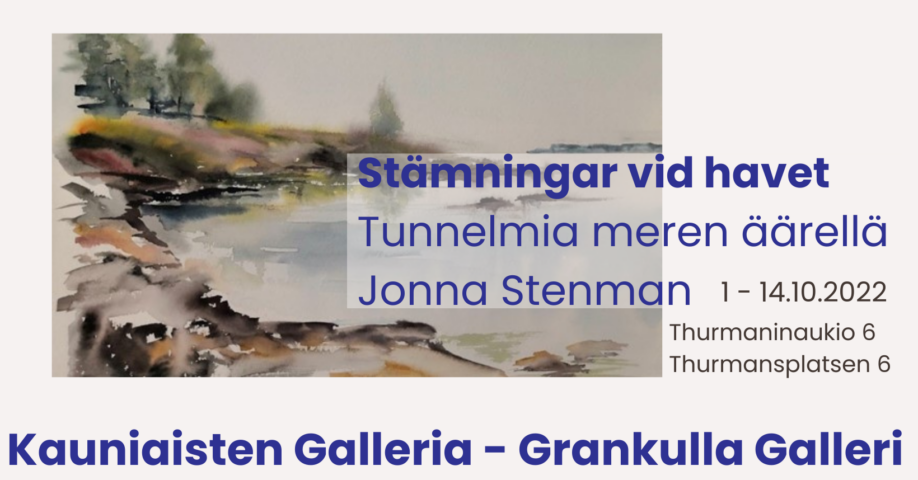 Feelings by the sea 1. – 14.10.2022
ABOUT THE EXHIBITION
The theme of the exhibition is simple: the different moods one can feel in the archipelago, by the sea. Cliffs formed round by eons of time, lichen and moss on rock formations, windswept pines, sand and grass, roaring waves and a sudden light peeking through dark clouds, spreading glitter on the water. Ice and snow restraining the wild sea. Humans are barely noticeable – only hints of human presense can be seen here and there; a sailboat far away in the bay, a lighthouse on a cliff. Here you can find perspective in life – or just be as you are.
ABOUT THE ARTIST
Jonna Stenman is a watercolor artist with a special liking to the wild and untamed in nature. She is self-learned but has attended several shorter art courses over the years. As an artist Jonna strives to convey awe over natures different moods: the feeling of freedom by the vastness of the sea, the power of the storm and the silence when the wind has died.
Typical is also the willingness to test new concepts in showing her art: a pop-up exhibition for colleagues, an on-line exhibition in social media and a home exhibition when the corona pandemic didn't allow for open gatherings.
Jonna is born 1971 in Helsinki but now lives in Kauniainen and it was a natural choice to have the exhibition in the local library, in the middle of her home town.
PREVIOUS EXHIBITIONS:
Sieluni maisemat – the entrance hall, Sitra (Suomen itsenäisyyden juhlarahasto) 2013
At the sea – on-line, Pinterest, 2018
Private exhibition – i privathem, 2021
CONTACT INFORMATION
For more information on exhibited art work, please email jonna.jonnart@gmail.com or call 0405704023.
Artist will be in the gallery:
Saturday, October 1, at 12-15 (opening of exhibition)
Friday, October 7, at 16-18
Wednesday. October 12, at 10-12
What: Tunnelmia meren äärellä, art exhibition
Where: The Gallery in Kaunianen, Thurmaninaukio 6
When: 1.10 – 14.10.2022
Mon 11-19
Tues 11-18
Wed 11-18
Thurs 11-19
Fri 11-18
Sat 10-15
Sun closed
The Gallery is free to visit for everyone, open for every age and is accessible for wheelchair users.
The Cultural services of Kauniainen – Grankulla are responsible of the Gallery.
Events webpage