Tribute to Leonard Cohen
14.4.2022 at 19.00
–
21.45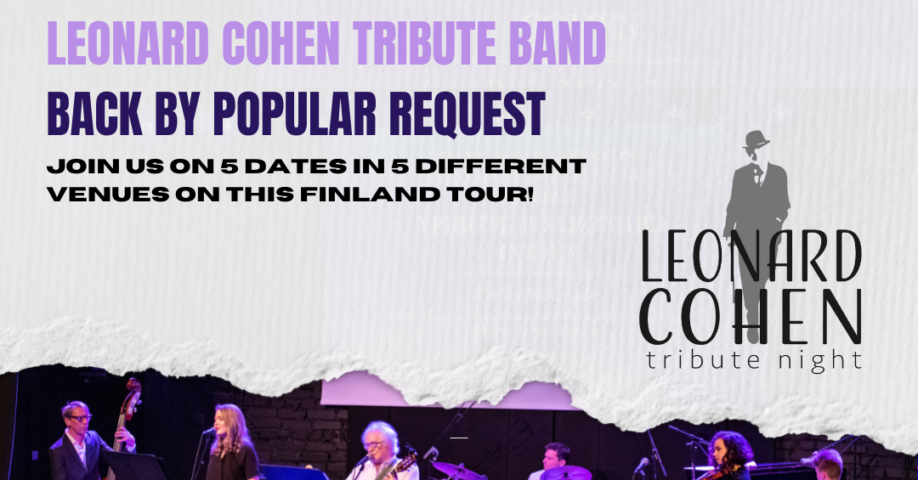 Tribute to Leonard Cohen
Tue 12.4 at 18  Sibeliusmuseum, Åbo/Turku
Wed 13.4 at 18  Kulturhuset Grand, Borgå/Porvoo
Thu 14.4 at 19  Nya Paviljongen, Grankulla/ Kauniainen
Sat 16.4 at 17  Villa Lande, Kimito/Kemiö
Sun 17.4 at 18  Kulturhuset Karelia, Ekenäs/Tammisaari
Kulturhuset Karelia organizes a "Tribute to Leonard Cohen" mini tour in April 2022 by Paddy McQuaile from Ireland joined by a band of local talents. Kulturhuset Karelia brought you two sold out concerts which received immense applause just before the lockdowns of the pandemic. A taste from these you can find on the YouTube channel hosted by Kulturhuset Karelias.
During the evening music by Leonard Cohen fills the concert hall as we look back through the life of this notorious and musical poet. Throughout, a verbally painted picture of Cohen's life is also narrated by our MC Charlotta Barman.
Talent
Paddy McQuaile, vocals and guitar
Lisa Theman, vocals
Lotta Ahlbeck, violin
Felix Lönnqvist, piano
Kjell Ekholm, bass
William Barman, drums
Charlotta Barman, host
Kristoffer Dahlström, sound engineer
This event runs in English.
Concert playing time: 2h 45 min inclusive of 25 min intermission
Tickets: 27€
Please note! On the door sales are only available for the concerts offered in Kulturhuset Karelia and Kulturhuset Grand. For other locations, please purchase your ticket through www.netticket.fi or from any other place that sells tickets via netticket.
Events webpage