Autumn Sonata – Exhibition
12.9.2023 at 11.00
–
30.9.2023 at 14.00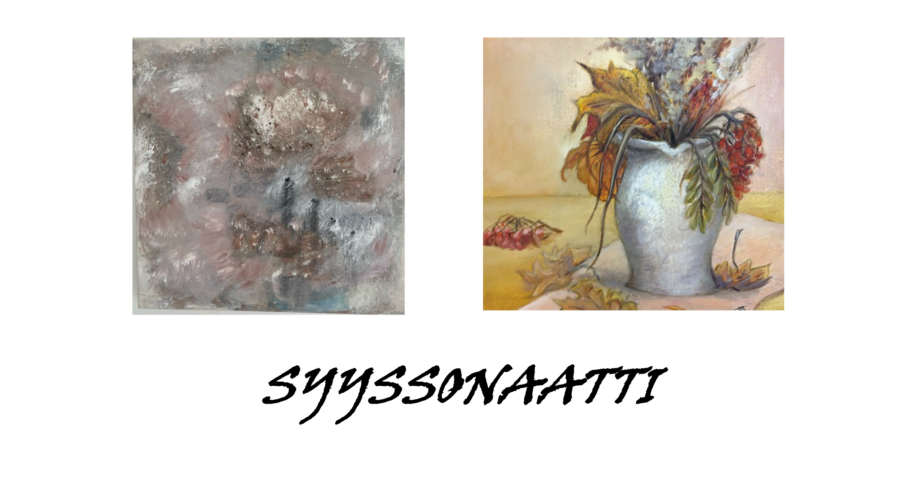 Autumn Sonata
September 12 – September 30, 2023, Hilkka Alatalo – Maritta Laitinen
Paintings, ceramics, graphics. Opening party on Monday, September 11, from 6:00 PM to 8:00 PM.
Maritta Laitinen (Mai)
I love to draw! I explore nature and its details. I search for light and shadow, and my sketchbook fills with subjects that I later work on in various ways. Watercolor works are mostly created during the summer when the light is at its best.
I prefer to focus on oil paintings, pastel drawings, and metal graphics during the autumn and winter. Through ceramics, I have discovered a new dimension in my artistry. The drive to Nokia's ceramic workshop doesn't feel long when the clay awaits its sculptor.
I completed basic and advanced art studies in the 1990s and have since continued to be active in the field of art. Having my own workspace is important, and Aurora House offers excellent opportunities for it. Since the late 1990s, I have held annual solo exhibitions and participated in numerous group exhibitions. I have been active in the association's board for many years and have been the chairman since 2017.
Tel. 040 5273268
mai.laitinen@kolumbus.fi
Facebook: marittalaitinen
Instagram: mailaitinen
Hilkka Alatalo
For me, painting is the best way to spend time – and when I enter the flow state… it's fantastic. I mainly use oil paints, which give me time to pause, think, and experiment with the play of different colors. I find subjects from nature, the environment, and even people and living creatures – color experiments are also very interesting. I have participated in many joint and group exhibitions over the years.
hilkka.alatalo@kolumbus.fi
Phone: 045-122 4779
What: Autumn Sonata – Exhibition
When: September 11-30, 2023.
Monday, Thursday: 10 AM – 8 PM
Tuesday, Wednesday, Friday: 10 AM – 6 PM
Saturday: 10 AM – 3 PM
Sunday: Closed
Where: Gallery in Kauniainen, Thurmaninaukio 6
Cost: Free admission
Organizers: Maritta Laitinen & Hilkka Alatalo
The gallery is free to visit, open to all ages, and accessible for people with reduced mobility. The cultural services of Kauniainen city are responsible for the gallery's operation.