Tiny stories…
1.12.2022 at 12.00
–
14.12.2022 at 18.00
Born to be an artist, an interpreter of emotions
Paula Oksman (b.-70)
painter, visual artist
Professional artist since 1991
The source of my inspiration and passion is learning new things all the time. I want to reform and try different techniques and methods. I don't want to quit.
I want to create a story for the viewer with the works, an atmosphere for memories or even my own childhood. With the most reduced works, I seek harmony with color tones.
The way the works are made changes depending on the job, depending on what kind of end result I'm looking for.
I don't necessarily know myself, because technology and tools can change as the work progresses.
My path has gone from extreme naturalism to today's modern, even abstract elements however, without forgetting naturalism.
What: Tiny Stories… – art exhibition
Where: The Gallery in Kauniainen Grankulla, Thurmaninaukio 6
When: 1.- 14.12. 2022
mon, thurs 11 – 19
tues, wed, fri 11 – 18
sat 10 – 15
The Gallery is free to visit for everyone, open for every age and is accessible for wheelchair users.The Cultural services of Kauniainen – Grankulla are responsible of the Gallery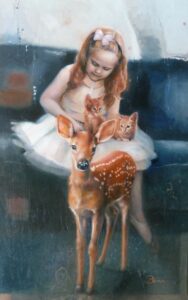 Events webpage