Grankulla svenska pensionärer rf:s Fotoklubb – Photoexhibition
17.10.2022 at 13.00
–
29.10.2022 at 15.00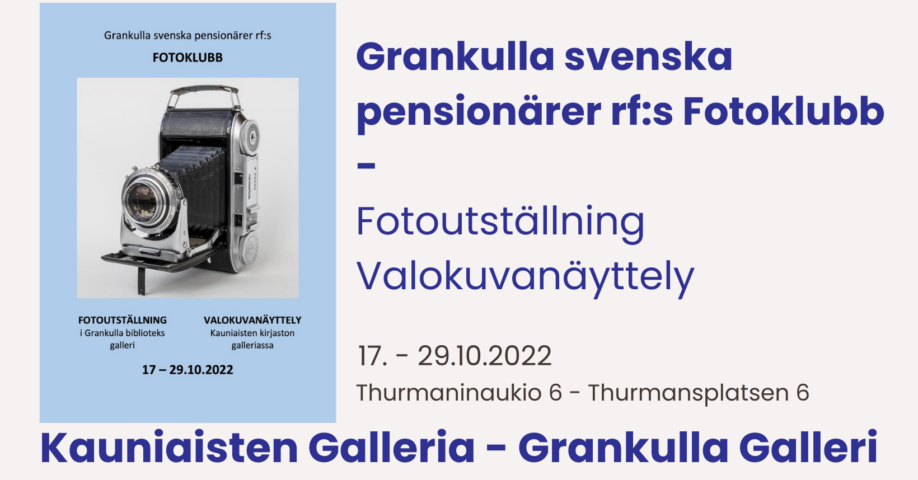 Photoexhibition
Grankulla Svenska Pensionärers Fotoklubb 17. – 29.10.2022
The Photoclub of the Swedishspeaking pensioners´ in Grankulla (Grankulla svenska
pensionärers fotoklubb) is a hobby group within the association Grankulla svenska
pensionärer r.f. (GSP)
The Motto of the hobby group is: Develop your interest in photography together with us!
The event, The Photo Parade, represents an important part of the club´s activities since
2015.
The Photo Parade is arranged two to three times a year.
Usually, some 30-40 photos are submitted by the club members.
The photos are judged by members from the association
Amatörfotografklubben i Helsingfors, or by professionals from the region of Nyland. The
judge has been chosen by the Photoclub.
Following the evaluation, the judge makes comments on the photos. The participants as
well as others who are interested are given the opportunity of discussing the photos and
the assessment.
The judge then chooses eight representative photos without ranking them. These chosen
photos are then printed in large sizes of maximum quality. After that they will be displayed
in Villa Junghans during the meetings of the Pensioners association.
The photos displayed here show themes from the last few years.
The Photo Parade is not a competition. The idea is that the GSP members are given an
opportunity to show their photos and their interpretation of the given themes – not to
forget the mingling with like-minded.
The Club also arranges courses for GSP-members, interested in photography.
In Gula Villan, on Thurmansallén 1, where the Club has a small studio, the course activities
take place. In this studio there is equipment for portrait photography, photo editing, and
courses in photography.
The studio hosts the Club archives, a library and a collection of system cameras and
accessories.
The exciting results of The Photo Parade have, up till now, only been available to a
restricted group. Now the Club wants to show them to a wider audience.
More information about the activities of the Photo Club is found on the web site of
grankulla.spfpension.fi.
The Photo Club is also on Facebook.
What: Grankulla svenska pensionärer rf:s Fotoklubb – Photoexhibition
Where: The Gallery in Kaunianen, Thurmaninaukio 6
When: 17.10 – 29.10.2022
Mon, Thurs 11-19
Tues, Wed, Fri 11-18
Sat 10-15
Sun closed
The Gallery is free to visit for everyone, open for every age and is accessible for wheelchair users.
The Cultural services of Kauniainen – Grankulla are responsible of the Gallery.
Events webpage