Forest Baths and Silk Dreams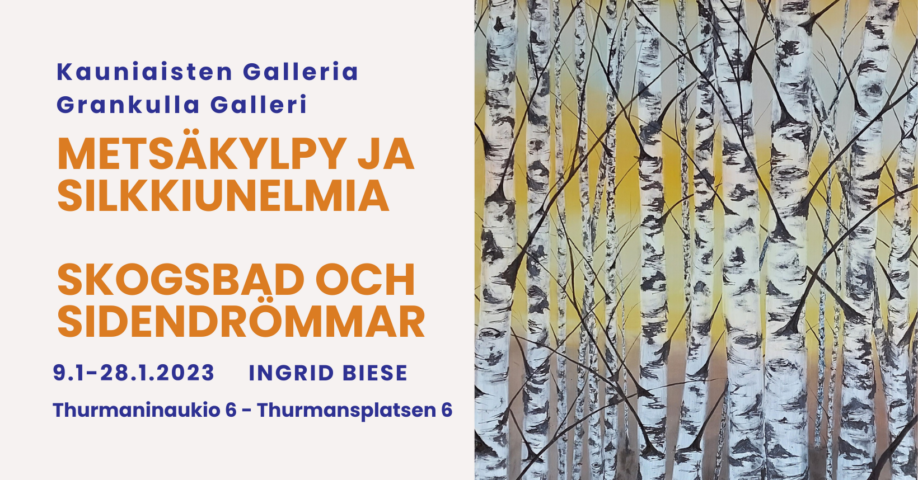 FOREST BATHS AND SILK DREAMS
INGRID BIESE
9.1-28.1.2023
Kauniainen city Gallery
My passion is to paint on silk; there is just something magical about it. The paints spread and mix on the fabric and you never really know what will happen. My greatest inspiration is Finnish nature and the archipelago. When I look out at the sea or wander in the forest among all the colors, textures and scents, I feel my heart swell. It is that feeling that I want to convey through my art. I love to paint the shifting shades of the archipelago in photorealistic paintings and the forms of nature in scaled down and simplistic silhouettes. By applying new techniques and Nordics motifs to an ancient Asian art form, I like to explore and transcend the boundaries between old and new, traditional and contemporary, East and West. When I'm not painting, I'm a researcher and a writer.
With my Forest Baths and Silk Dreams exhibition, I want to invite visitors to walk with me among the grasses and the trees and look up to the soaring treetops, where you can breathe more freely and dream yourself away for a moment.
What: Forest Baths and Silk Dreams art exhibition
Where: Kauniainen city Gallery , Thurmaninaukio 6
When: 9.1 – 28.1.2023.
Mon, Thu 11-19
Tue, Wed, Fri 11-18
Sat 10-15.
The Gallery is free to visit for everyone, open for every age and is accessible for wheelchair users.
The Cultural services of Kauniainen – Grankulla are responsible of the Gallery.
Events webpage