Sibelius and Brahms at Spring Concert of Local Symphony Orchestra
16.4.2023 at 18.00
–
19.00
Petri Sakari conducts the Kauniainen orchestra's performance of classical masterpieces
The Kauniainen orchestra consists of some 60 amateurs and former professional musicians. This concert features symphony No. 3 by Johannes Brahms, and two symphonic poems by Jean Sibelius: Spring song (La tristesse du printemps) and En Saga. The orchestra is led by Petri Sakari, who has many years of experience as a conductor of professional and amateur orchestra in Europe and elsewhere.
What: Sibelius and Brahms at Spring Concert of Local Symphony Orchestra
When: Sunday 16.4.23 at 18.00
Where: Uusi Paviljonki, Läntinen koulupolku 3, 02700 Kauniainen
How much: Tickets available at Ticketmaster: 25€ /15 € (+ service fee). Tickets also sold at the entrance. Free entrance with the Kaikukortti.
For who: Music enjoyers.
Organizers: The Symphony Orchestra in Kauniainen Grankulla in collaboration with the cultural services in Kauniainen Grankulla.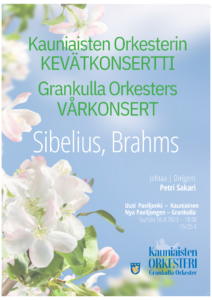 Event cost
25€ /15 € (+ käsittelymaksu). Lippuja myydään myös ovella. Vapaa sisäänpääsy Kaikukortilla.
Events webpage