Kauniainen – Grankulla Pride
29.6.2022 at 12.00
–
18.00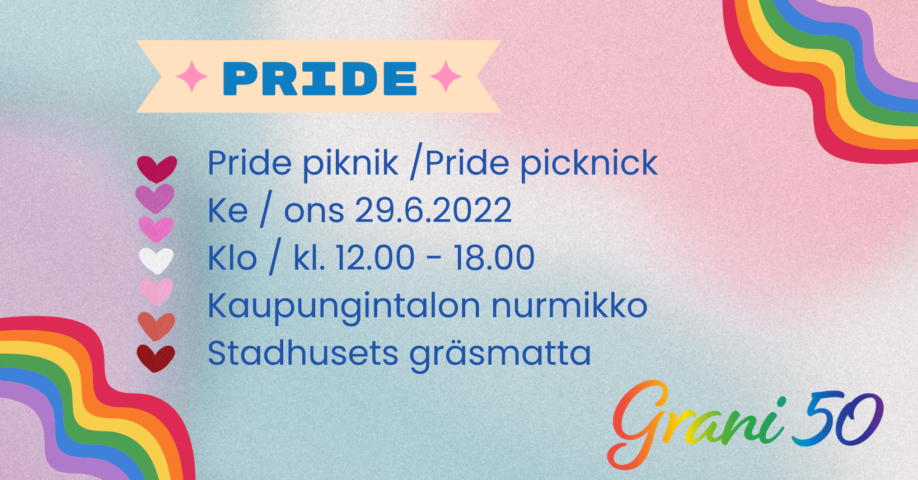 The first pride event in Kauniainen. Welcome to a pride picnic!
We have music, games and coffee with snacks. Feel free to bring your own games and something to eat. The event is alcohol- and drugfree.
What: Kauniainen Pride picnic
When: Wednesday 29.6.2022 from 12.00 to 18.00.
Where: Kauniainen cityhall, Kauniaistentie 10
For who: LGBTQIA+ in every age from Kauniainen
Free entrance.
Organizers: Cultural services of Kauniainen, youth services of Kauniainen and Grani DigiLab.
Our principles for safer space
We treat each other in a friendly manner. If help is needed, we provide it.
People are diverse, and this diversity should be celebrated. We treat everyone respectfully.
We do not make assumptions about anyone's gender, sexuality, background, ethnicity or functional abilities. We respect everyone's own narratives and definitions of themselves. Furthermore, everyone is entitled to privacy.
We do not expect everyone to know or master the same things.
Identities and life situations are diverse; we do not use excluding language.
No one is treated badly or belittled based on their individual qualities such as gender, age, appearance, health or background.
Racist and homophobic or transphobic language and behaviour are forbidden.
More information about Pride week: pride.fi/pride-week/ 
Events webpage