Glimpses of light
3.10.2023 at 11.00
–
28.10.2023 at 14.00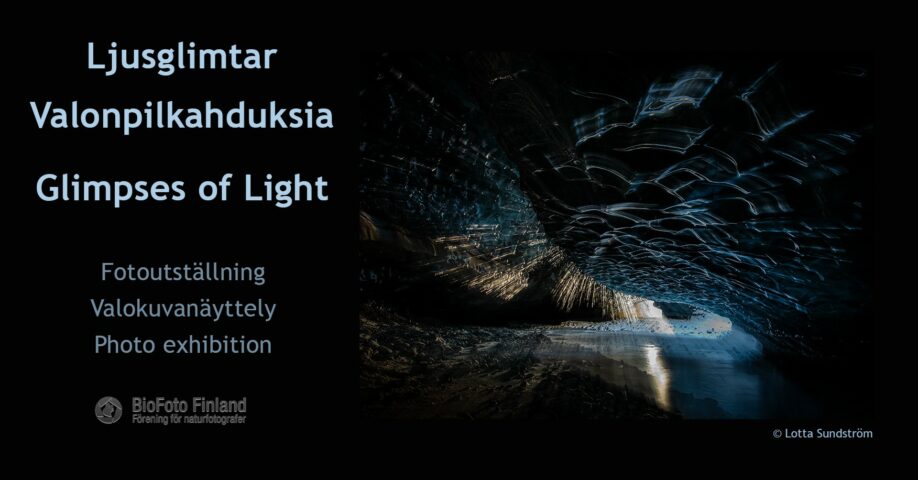 Glimpses of light
3-28.10.2023. Bio Foto Finland
BioFoto Finland is an association of nature photographers, open for anyone interested in nature and photography. Among our members there are beginners, amateurs and even professional photographers. The aim for BioFoto is to offer the members possibilities to exhibit their work, arrange field trips and workshops with professional leaders. Biofoto is a Swedish speaking association.
The works of this exhibition were chosen through a competition. All members of BioFoto were invited to send 1-3 photos with the Glimpses of Light theme. A jury of three, all members of the sister association BioFoto Sweden, then awarded first-, second- and third-place prizes, as well as two honourable mentions. In addition to these five the judges selected 21 more pictures to be included in the exhibition, thus consisting of 26 pictures all together.
All pictures are for sale (200€), please contact BioFoto (biofoto.finland@gmail.com) if you are interested.
OPENING PARTY
Monday 2.10.2023 6 p.m. Welcome!
Homepage: www.biofoto.fi
Instagram: @biofotofinland
The following photographers are represented in the exhibition:
Gunilla Björklund (Pietarsaari)
Sofie von Frenckell (Kauniainen)
Jannica Joelsson (Kirkkonummi)
Lasse Krogell (Kirkkonummi)
Tage Lampén (Kauniainen)
Annika Lindblom (Inkoo)
Henna Lundenius (Helsinki)
Maria Nyman (Turku)
Viveka Rabehl (Raasepori)
Jaana Santalahti (Hanko)
Roger Sjölund (Turku)
Peter Stenius (Helsinki)
Johanna Stjernberg (Helsinki)
Lotta Sundström (Helsinki)
Ghita Thomé (Helsinki)
Anssi Uusitalo (Kaarina)
Hanna Westman (Helsinki)
Linda Öhman (Sipoo)
What: Glimpses of light – Exhibition
When: October 3-38.2023.
Monday, Thursday: 10 AM – 8 PM
Tuesday, Wednesday, Friday: 10 AM – 6 PM
Saturday: 10 AM – 3 PM
Sunday: Closed
Where: Gallery in Kauniainen, Thurmaninaukio 6
Cost: Free admission
Organizers: Bio Foto Finland
The gallery is free to visit, open to all ages, and accessible for people with reduced mobility. The cultural services of Kauniainen city are responsible for the gallery's operation.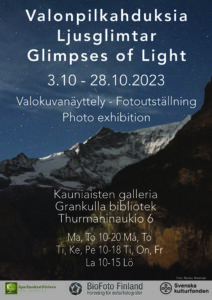 Events webpage