Drive in movies
14.10.2022 at 19.00
–
15.10.2022 at 23.00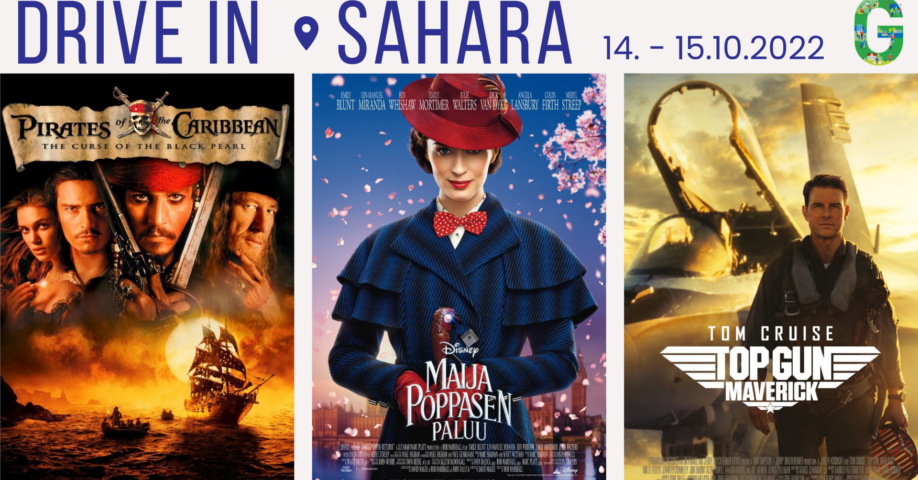 Come and enjoy movies from the comfort of your own car at Sahara (eteläinen suokuja). Pull your seat back, lay your blanket on top of you, put the right frequency on the radio, get your soda and popcorn ready and it's time to enjoy!
Would you to come but don't have a car? No worries, we will have a tent with seats. The weather might be cold so remember to dress accordingly.
We will show three movies in the two day event.
We will start the Drive in movie event on Friday 14.10.2022 with a movie that many have been waiting for, for years and years.
The movie is a big sensation and trending on TikTok at the moment.
Can you guess the movie? It's Top Gun: Maverick of course! The movie starts at 19.00 and the doors are 18.00.
We have two movies on Saturday 15.10.2022. The first one is the wonderful family movie Mary Poppins returns from 2018. The movies starts at 18.30 and the doors are 17.30.
Later that evening Sahara will be filled with pirates. It's the movie that started the pirate trend in 2003. Pirates of the Caribbean: The Curse of the Black Pearl. The movie will begin at 21.30 and the doors are at 21.00.
You can find more information about the movies on the event wall.
What: Drive in movies
When: 14. – 15.10.2022
Movies and timetable:
fri 14.10 at 19.00 doors at 18.00
Top Gun: Maverick. K12
sat 15.10 at 18.00 doors at 17.00
Mary Poppins returns. K7
sat 15.10 at 21.00 doors at 20.30
Pirates of the Caribbean: The Curse of the Black Pearl. K12.
Where: Sahara, eteläinen suokuja
Costs: Free entrance
For whom: The people of Kauniainen
organizers: Kauniaisten kulttuuripalvelut ja Limmco Oy Ab.
Welcome!
Events webpage