Blind Gut Company: Twinkle, twinkle little starfish
24.3.2023 at 13.00
–
13.30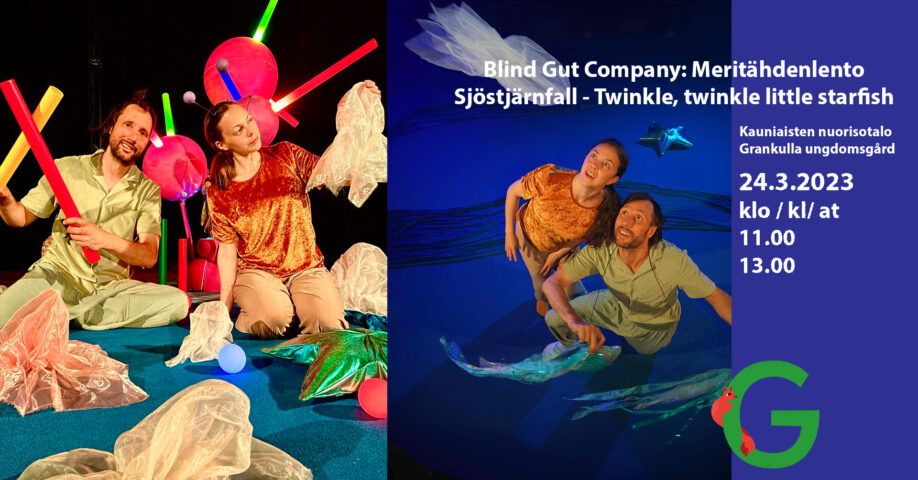 Welcome to the new youth center in Kauniainen – Grankulla for a babytheatre!
A circus performance that dives into a world below the waves where babies meet sea creatures in a sense-tickling environment.
Performance description
"Twinkle, twinkle little starfish" is a softly whirling circus journey from the ocean floor towards the surface. In the underwater world the audience encounters playful fish, mystical jellyfish, colorful corals and other sea creatures. The babies get to enjoy the embrace of the sea while watching, listening and exploring in a safe environment.
Blind Gut Company
Blind Gut Company is an adventurous circus group from Finland, founded in 2015. The group strives to create circus art that encourages critical and creative thinking for audiences of all ages. "Twinkle, twinkle little starfish" is the company's third performance made for children.
Credits
Performers: Inga Björn/Saana Peura and Tuomas Vuorinen
Direction and scenography: Blind Gut Company
Light and sound design: Tuomas Vuorinen
Production: Cirko – Center for New Circus and Blind Gut Company
What: Blind Gut Company: Twinkle, twinkle little starfish, babytheatre
When: Friday 24.3 at 11.00 – 11.30 and 13.00 – 13.30
Where: Kauniainen – Grankulla youth center, Läntinen koulupolku 1-3, 02700 Kauniainen
How much: Free entrance, sign up here for the theatre at 13.00!
Here's info about the theatre at 11.00
For who: Baby's under 1 year and one adult
Language: wordless performance
Age limit
0-1-vuotiaat aikuisineen
Events webpage