ART HOUSE – The Lost King
26.10.2022 at 18.00
–
19.50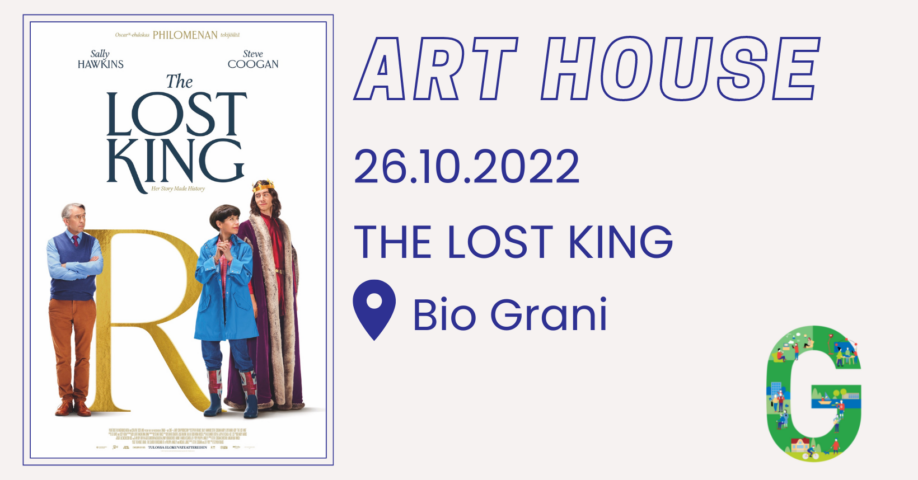 ART HOUSE – The Lost King
Premiere: 14.10.2022
Length: 135 min
K7
In 2012, having been lost for over 500 years, the remains of King Richard III were discovered beneath a car park in Leicester. The search had been orchestrated by an amateur historian, Philippa Langley, whose unrelenting research had been met with incomprehension by her friends and family and with scepticism by experts and academics. THE LOST KING is the life-affirming true story of a woman who refused to be ignored and who took on the country's most eminent historians, forcing them to think again about one of the most controversial kings in England's history.
Tickets are bought from Bio Grani
Bio Grani opens the cinema half an hour before the first show of the day.
You can reserve a ticket before hand by email info@biograni.fi or Bio Granis website . You can call the cinema at their opening hours, 09 505 3062.
Any reserved ticket must be bought at least 15 minutes before the show.
What: Art House – movieseries – The Lost King
When: 26.10.2022 18.00pm
Where: Bio Grani,
Teinikuja 4 02700 Kauniainen
How much: 10€
For whom: Everyone over 7-years
Events webpage